AAJA Members at the Super Bowl
AAJA members including Michael Huang, Tommy Tran, Josh Tolentino, Varun Shankar, Mina Kimes, Michael Kim, Noah Furtado and Ryan Chien at the Super Bowl in Phoenix, Arizona on Sunday, Feb. 12, 2023.
Courtesy of AAJA Sports Task Force and Michael Huang.
With a significant need for professionals to communicate science, discoveries, and innovations to the general public, a flexible hybrid/online program—with a focus on science and technology—will be offered through the University of Illinois journalism master's degree beginning Fall 2023. Coursework can be completed entirely online and in as few as two semesters. Journalists and other professional communicators who want to boost their skills are welcome to enroll in online modules as non-degree students. To learn more about the program and the application details, see media.illinois.edu/master-science-journalism. The deadline to apply is March 3, 2023.
Sponsored Content
AAJA Members Cover California Mass Shootings
From AAJA-HQ: Be recognized for excellent journalism, apply for AAJA Awards today
Intern with AAJA-HQ Ready to kickstart your journalism career with an internship that makes a difference? AAJA-HQ's spring 2023 internship offers just that, with the opportunity to extend through the summer and help staff our national convention in Washington, D.C. Learn more and apply here!
#AAJA23: Our national convention
Mentor Match We are now accepting applications for Mentor Match mentors and mentees. Apply to be a mentee by Feb. 23 or apply to be a mentor by March 2 at 11:59 p.m. PT.
AAJA PITF-NAJA Scholarship Our 2023 Pacific Islander journalism scholarship, in partnership with the Native American Journalists Association, is now accepting applications. Learn more and apply by May 1, 2023.
Happy Lunar New Year, #AAJAFamily!
Members of AAJA-Texas, AAJA-New York, AAJA-Washington, D.C., and AAJA-New England gather across the U.S.
Celebrating Henry Fuhrmann's Life
Friends, family and all who wish to commemorate Henry Fuhrmann are welcome to attend his Celebration of Life, Sunday, Feb. 19 at 1:30 p.m. The event will be at the DoubleTree in Little Tokyo, with a reception in the Thousand Cranes room and Kyoto Gardens.
Feb. 20 | Welcome Back AAJA-Michigan Event | Join AAJA-Michigan for a reunion and networking event on Monday, Feb. 20 at 6:30 p.m. at Crain Communications. | RSVP here.
Feb. 23 | AAJA-L.A.'s Reporters Roundtable: Covering Mass Shootings in Asian America | AAJA-Los Angeles will host a panel on covering mass shootings in Asian America on Thursday, Feb. 23 from 6-8:30 p.m. on Zoom. | RSVP here.
Feb. 24 | AAJA-New England's UNIFY Career Summit | AAJA-New England, BABJ, NAHJ New England, and NLGJA Boston will host a career development event for college students on Friday, Feb. 24 from 12-4 p.m. at the Boston University School of Communication. | RSVP here.
Feb. 28 | AAJA-Philadelphia's Lunar New Year Fundraiser Event | Join AAJA-Philadelphia in celebrating the 2023 Lunar New Year season on Tuesday, Feb. 28 at 7 p.m. at EMei Restaurant in Philadelphia's Chinatown. | RSVP here.
📓 News & Resources
member feature Amna Nawaz shared her thoughts on the state and future of broadcast journalism in today's digital age. She also described how she has raised awareness of the recognition and treatment of post-traumatic stress in the journalism industry.
mental health Poynter has published a guide for journalists to practice self-care and stress management following the death of Tyre Nichols.
spotlight Mina Kimes discussed her journey from investigative business reporter to an NFL analyst and the joys and challenges of the job.
DEIB initiative The American Press Institute launched a four-week series on their Inclusion Index strategy, aimed at serving communities of color within and outside the newsroom.
journalism leaders Center for Public Integrity Audience Engagement Editor Ashley Clarke was named to Editor and Publisher magazine's "25 Under 35" list and offers advice to other young Black female journalists.
On Our List 🌟 📺 📸 📰 🎧
Follow us on Twitter @aaja for more works on our radar from the AAJA community.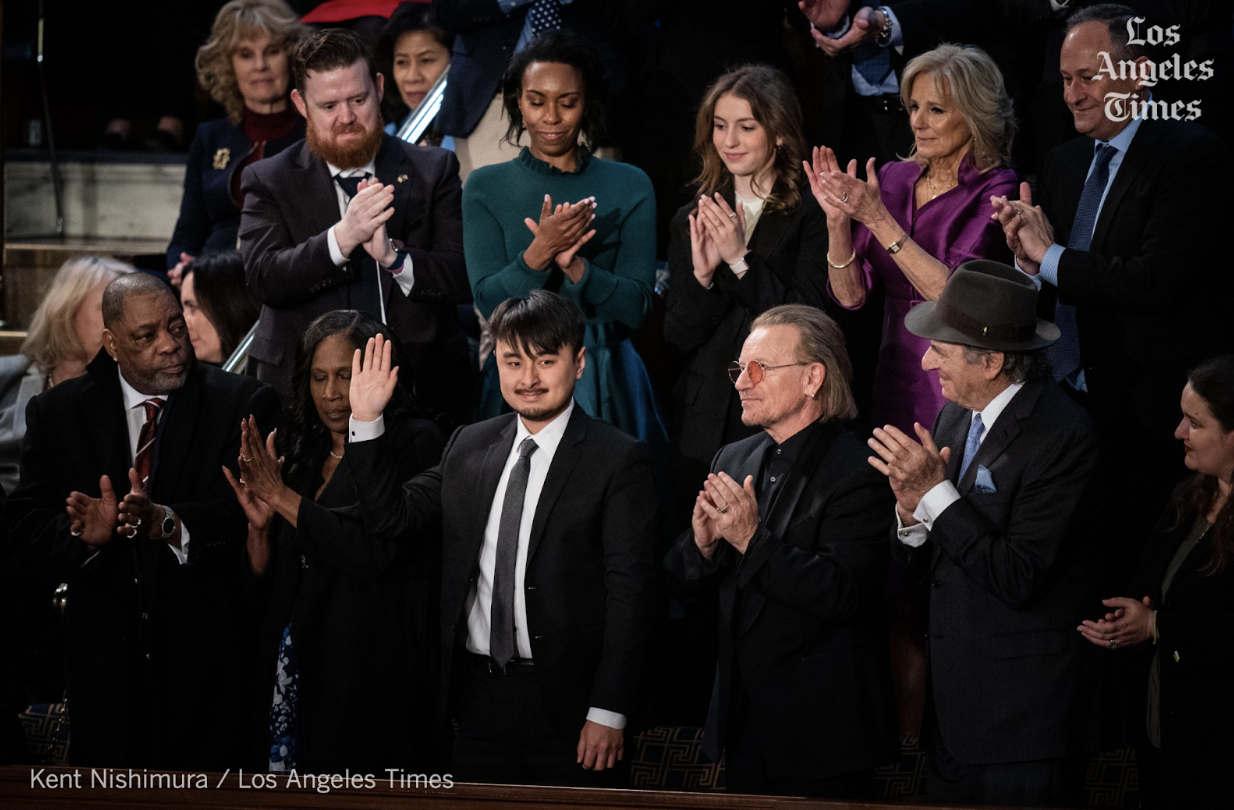 Brandon Tsay, who wrestled a gun out of the shooter's hands during the mass shooting in Monterey Park, California is honored at the State of the Union address on Tuesday, Feb. 7 in Washington, D.C. Kent Nishimura / The Los Angeles Times
Opportunities
Visit AAJA Careers or follow @AAJACareers on Twitter to post jobs or internships and stay up-to-date on available positions. Check in with your AAJA chapters for more opportunities.
AAJA Opportunities:
External and Partner Opportunities:
SEJ Community-Based News Outlets

| The Society of Environmental Journalists needs your help developing a list of community-based news outlets with strong interest in environmental coverage. Please help identify community-based colleagues by filling out

this short form

.

NICAR 2023

| The National Institute for Computer-Assisted Reporting Conference will take place on March 2-5, 2023 in Nashville, Tennessee. | Regular registration deadline: Feb. 28. |

Learn more here

.
Did you produce some great journalism recently, or see good work from others?
Put work on our radar to feature in our next member highlights.
Collectively, we can celebrate 40 years of impact and contribute towards 40 more years of AAJA's mission of supporting and uplifting AAPI journalists. Donate today.
Asian American Journalists Association
Having trouble viewing this email? View it in your web browser
You are receiving this email because you are an AAJA member or supporter. We recently moved to a different email server. If you previously unsubscribed, you can update your subscription preferences below.