David Ono speaks at Henry Fuhrmann's Celebration of Life on Saturday, January 19, 2023 in Los Angeles.
Photo courtesy of Leezel Tanglao.
From AAJA-HQ: Sustaining legacies and future generations of journalists
AAJA-HQ Reminders
We are looking for a spring 2023 intern! Timing has some flexibility, with the opportunity to continue through the summer to staff AAJA's 2023 national convention in Washington, D.C. Find more information and apply here.
Chapter/AG leaders, our first quarterly Chapter Presidents Roundtable is on Tuesday, March 7 from 8 - 9:15 p.m. ET. Please contact svp@aaja.org if you have not received your calendar invite.
VOICES AAJA is seeking leaders for our 2023 VOICES team! Direct the VOICES program with co-leads and AAJA-HQ staff and make an impact in this training program for young journalists. Apply by March 6.
Team AAJA What's a great way to qualify for the TCS New York City Marathon? Run and fundraise for AAJA, which has been named an official charity partner for 2023. Team AAJA applications will be reviewed and accepted on a rolling basis until Wednesday, March 29, 2023 at 11:59 p.m. ET. Apply here.
AAJA's Inaugural Mixer at SXSW Will you or someone from your organization be in Austin for SXSW? Come to AAJA's mixer with food, drinks and a panel discussion! The event will be held at QI Austin on Saturday, March 11 at 4:30 p.m. No badge is needed to attend but space is limited, so please register by emailing waliyal@aaja.org.
🗓 AAJA Events
Contact us to list your event on our events calendar.
March 3 | AAJA-Seattle's Lunar New Year Celebration | Join AAJA-Seattle in supporting local journalists at their Lunar New Year banquet at Seattle's Wing Luke Museum on Friday, March 3 at 6 p.m. RSVP here.
March 8 | AAJA-Arizona's Holi Celebration | AAJA-Arizona will host a casual outdoor Holi celebration on Wednesday, March 8 at 6:30 p.m. at Margaret T. Hance Park. The event is open to members and ASU members to come learn about the holiday and participate in throwing colored powder!
March 11 | AAJA's Inaugural Mixer at SXSW | AAJA will hold a mixer with "The Power of Us," a panel to discuss the overlapping missions of journalists, community leaders and policymakers alongside SXSW on Saturday, March 11 at 4:30 p.m. at QI Austin. No badge is needed to attend but space is limited, so please register by emailing waliyal@aaja.org.
March 14 | AAJA-Arizona and AAJA-Arizona State University's Networking Night | AAJA-Arizona and AAJA-ASU members are invited to a resume/clips critique with journalism professionals at Phoenix's Miss Dessert on Tuesday, March 14 at 6:30 p.m.
April 1 | AAJA-Washington, D.C.'s Journalism Job Fair | Join Georgetown and the D.C. chapters of AAJA, NAHJ, NABJ, NLGJA, SPJ and JAWS for their job fair on Saturday, April 1, 2023 at 10 a.m. at the Georgetown University School of Continuing Studies. Register here by March 24 and sign up to volunteer here.
📓 News & Resources
member feature Sewell Chan was elected Harvard's Class of 1998's chief marshal for his leadership and commitment to widening news access. In an interview, he remarked that his proudest accomplishment has been helping other journalists through the pipeline.
AAJA in the media Georgia Tech's Technique wrote about panels and the biggest takeaways from AAJA-Atlanta's 2023 student and early career journalism workshop in collaboration with the Technique on campus.
in remembrance Henry Fuhrmann's Celebration of Life took place on Sunday, February 19 in Los Angeles. An article honoring his legacy described the lives he touched and words from his family, friends, mentees and more.
guidance A Poynter article by Kelly Chan covered the declining levels of trust in journalism and how accurate representation can guide newsrooms to alter their relationships with communities of color.
👏 AAJA Kudos to...
The cast and crew of Everything Everywhere All at Once, who won big at the Screen Actors Guild Awards on Sunday, Feb. 26, 2023.

Angilee Shah

, who is the next

CEO of

Charlottesville Tomorrow

.

Vivian La

, who was awarded the

2023 David Ibata Print Scholarship

.

Cora Hall,

who is the U.S. Basketball Writers Association's

Rising Star award

winner.

James Koh

, who is the Fantasy Sports Writers Association's

Best Short-Form Video award

winner.

Pia Singh

, who was awarded the

20th annual Nora Magid Mentorship Prize

.

Anita Rao

,

Katherine Reynolds Lewis

,

Kendall Trammell

,

Marian Chia-Ming Liu

and

Masako Melissa Hirsch

, who were chosen for the 2023 cohort of the

Online New Association's Women's Leadership Accelerator

.

Siri Chilukuri

and

Akielly Hu

, who joined

Grist's new class of fellows

.

Lam Thuy Vo

, who joined The Markup's

investigative reporter team

.

Brooke Grimsley

, who will join

The Opening Drive on 101 ESPN

.

Boer Deng

, who joined Radio Free Asia as

head of the investigations unit

.

Claire Tran

, who

joined Indiegraf

and will be helping independent, community news outlets reach their audience and revenue goals.
On Our List 🌟 📺 📸 📰 🎧
Follow us on Twitter @aaja for more works on our radar from the AAJA community.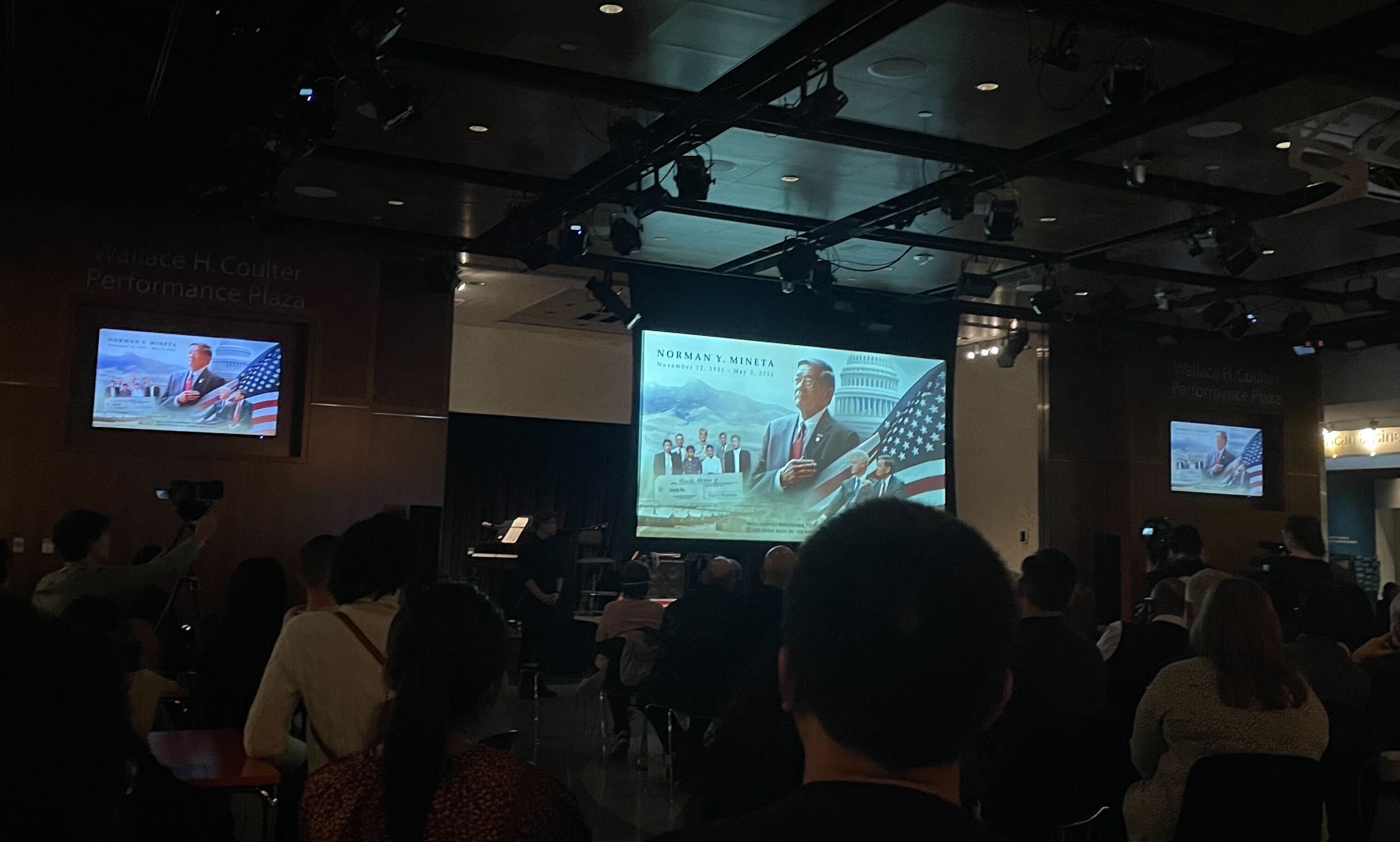 Secretary Norman Mineta, who passed away last year, is honored in a tribute produced by Dianne Fukami and Debra Nakatomi of the Mineta Legacy Project at the Smithsonian's Day of Remembrance event on Sunday, Feb. 19, 2023 in Washington, D.C. Photo credit: Yi-Shen Loo, AAJA-HQ
Opportunities
Visit AAJA Careers or follow @AAJACareers on Twitter to post jobs or internships and stay up-to-date on available positions. Check in with your AAJA chapters for more opportunities.
Did you produce some great journalism recently, or see good work from others?
Put work on our radar to feature in our next member highlights.
Collectively, we can celebrate 40 years of impact and contribute towards 40 more years of AAJA's mission of supporting and uplifting AAPI journalists. Donate today.
Asian American Journalists Association
Having trouble viewing this email? View it in your web browser
You are receiving this email because you are an AAJA member or supporter. We recently moved to a different email server. If you previously unsubscribed, you can update your subscription preferences below.